There are a million lists on the internet of what you should ask your photographer. But for whatever reason, they are written by either obsessive pinterest-ers or old people. (Do we really need to ask how many rolls of Kodachrome are brought or what lens mount their camera uses?) Here's a brand new list updated for our wonderful digital era, written by a photographer who was looking for photographers for his own wedding (by me, I mean). It also includes the answers to questions I hear new couples ask all the time. Feel free to take this list to ask any potential wedding photographer you may be meeting.
What type of photography do you specialize in?
I have shot weddings big and small. 400+ guests all the way down to having to sign as a witness. City weddings and outdoor weddings. I have worked with people who are terrified of being in front of the camera and natural models. But the one thing that everyone who hires me has in common, is they want larger than life photos that don't seem possible, and want natural photos of themselves that make them look better than they could have imagined. I specialize at making people feel at ease, naturally posing them to look their best, then adding in a little photography magic to make art that looks exactly how you remember it felt.
What do you sell?
Digital media is all fine and dandy, but first and foremost, I want you to have something physical that you can appreciate, either front and center everyday or in those quiet moments where you need a reminder of your love together. If during your consultation, you really fall in love with an album, or having a premium art display, I am always shooting with that in mind. It is your first family heirloom, and a lot of work goes into creating a masterful story that tells of your love. On top of that, I sell an experience. The "documentary, fly on the wall" photographers do you a disservice by not helping you look the best you possibly can. I capture a lot of images that look candid and intimate, but many of them have some part of the stage set by me before I let things unfold. Whether I tell the stoically reserved Dad to tell his daughter she looks beautiful before I capture the tears of happiness, or maybe I tell the groom to whisper something in her ear and wait for the reaction, the best moments usually require a light push. It could be something as simple as telling you to stand over by the window while you talk instead of in the doorway. From the moment you pay your retainer until the moment you have your photos in hand, I'm working tirelessly to craft your story in the most beautiful way possible.
Where do you live and how far will you travel?
I live in Seattle, WA. Most weddings for me happen on the west coast, but I have shot in the midwest and internationally. I include travel costs in many of my collections, and will travel literally anywhere you want to go. I know, a lot of photographers call themselves destination photographers, but have never been 30 min outside their local suburb. I have shot in Iceland, Italy, Canada, Mexico, all along the west coast. If you're ready for an adventure, ask about the Adventure Collection.
When will I see my images?
Two weeks after your wedding, we'll meet in my studio for your preview session. At that point, I will retouch any photos that were ordered as prints or go in your album. Once you approve the final album design, I will order all your prints. Albums may take up to 6 weeks for production, depending on the time of year.
What do we get with digital negatives? Do I get RAW? Do you edit?
In the film days, the negatives were literal film negatives. You got what the camera saw. When your photos got printed, a lot of care and effort went into getting the prints to look just right. That's exactly what I do. You will get beautiful crisp, natural looking images that are exactly what the camera saw, editing for only basic color tones and brightness. I do not give out RAW files because it's like your baker giving you flour. It's no good on its own. Whatever you decide to print for the wall or the album will get the full beauty treatment and become a true work of art, just like you see on my site.
Beyond basic retouching, for every wedding there are one or two statement pieces that stand above the rest. For those images, they get the special sauce and I go above and beyond to make them perfect. These shots bring the magic of the day to your home, and are truly worth becoming the centerpiece of any room.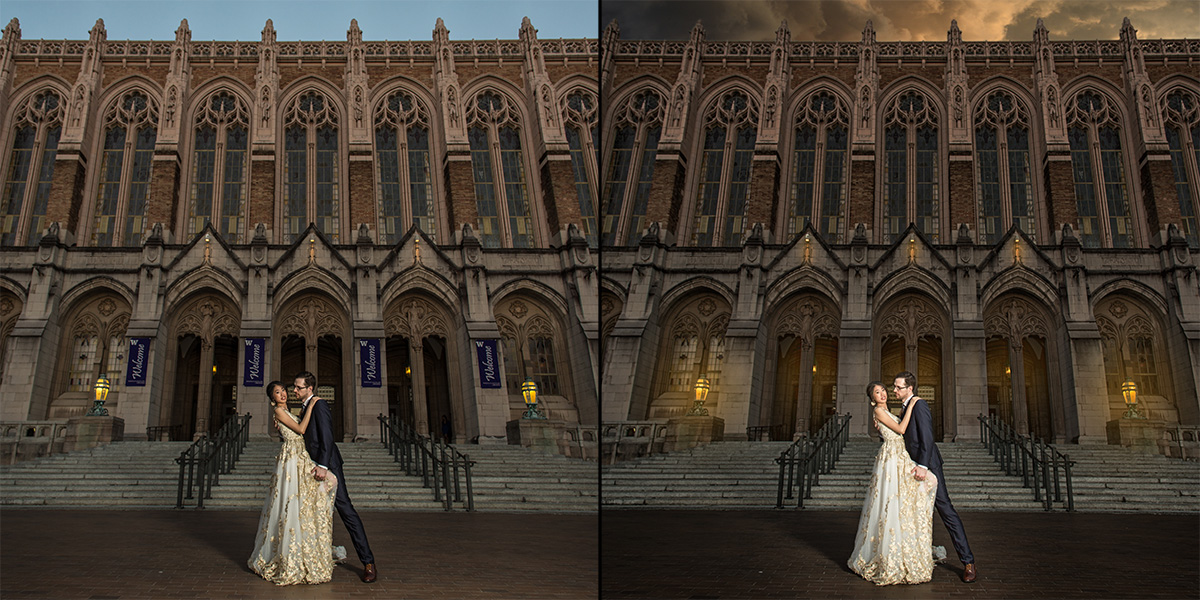 How many pictures will we get?
It's not the size that's important. I mean… Not the number of images. Many studios claim to offer absurd amounts of photos, then what you get is an overwhelming amount of files on a disc that you'll never take the time to go through and find the gems. I cull through your images so I'm showing you the best of the best, only giving you things you'll actually want to see. On a pretty consistent basis, this is upward of 50 images an hour, sometimes reaching up to 100. I don't limit the amount of photos you get. You get everything you actually want without millions of duplicates.
Will I get black and white photos?
The answer is "maybe". If you really want black and white photos, let me know before your wedding. Large studios offer the same photos in color and black and white without giving consideration to which way that photo looks better. The moment I click the shutter on the wedding day, I already know if that shot is going to be better in black and white or in color. If you want black and white photos, let me know and on your wedding day, I'll look for opportunities to make black and white photos.
Can you help with printing?
Absolutely. Other studios hand you a disc of images and say "deal with it" then a few years later you'll wonder how the time went by and you still don't have any wedding images printed. I want to supply you with art for your home. When you come in for your consultation or preview session, I can walk you through the range of products I offer.
Note: I specialize in contemporary mounting options that look great on the wall without traditional framing. Growing up with parents who are true art lovers, spending many hours (and dollars) in frame shops was a norm, and if you see what I offer and decide you prefer traditional framing, I'm happy to sell you unframed prints, mounted to 2mm styrene, ready to be framed, so you can frame them according to your own stylistic needs.
Can you recommend other vendors?
Absolutely. I do not have a "preferred" vendor list, but rather a group of people that I feel confident will do an excellent job for their own style of bride. If you are looking for a DJ, florist, cinematographer, or any other vendor, I'll do my best to match you with someone that will match your personality and style.
Do you have a second photographer?
I do not. Some photographers feel more confident having two photographers, and that's great. I have mastered the ancient ninja skills of the camera, and will work with you to make sure your timeline gives me everything I need to give you everything you need. If you're still unsure about how one photographer can cover everything, please contact me. I'd be happy to show you gallery after gallery of other weddings until I have your trust in my ninja abilities.
Did you take all these pictures personally? Will YOU be shooting my wedding?
Yes. This seems like a stupid question, but it isn't. I know other photography companies that include associate photographers and assistants work in their portfolios. Then when the associate photographer that you've never met shows up, you're asking yourself if they have any of the photos in the portfolio, and rethinking your photography choice all over again. It's in that moment where you stop trusting that you are going to be taken care of, that you feel extra unneeded stress on your day. I'm the only photographer at my studio, so I am always the one shooting your wedding. You can rest safe knowing everything you see on my site is by the same person shooting your wedding.
Can you make a photo like this? I found it on Pinterest.
Pinterest Bride, we all love you. (You are usually far more organized than the rest of the public, so there's that, too.) I'm happy to share pinterest boards with you and use those as inspiration. However, what you find on Pinterest is usually the result of a stylized shoot, not a real wedding, meaning that it could have taken hours to get a certain shot in this beautiful remote location. Or if it is a real wedding day, all the stars aligned that day to be able to create that perfect picture. If you want it, it's your wedding so of course I'll try it for you. Keep in mind that on your wedding day, the stars will be different. It's my job to align the stars to a different perfect picture, giving you something the likes of Pinterest has never seen before. You can be the first original pin of your photo!

Here is a example album spread I shot because the couple saw something on pinterest and really wanted it. The flower girls didn't want to cooperate, so the stars didn't align. (Although they were still very cute.) The bridesmaid's held up the frame for them instead. I created many other unique images from this wedding, and the couple had plenty of original pinterest post-worthy photos all for themselves.
Do you have a shotlist? What about family photos?
I've shot so many weddings, the shotlist is permanently burned into my brain. Here's what I do need from you though. I need a list of your family photo groupings, anyone who can't be in the same shot together, or any special traditions to you that may fall outside regular wedding traditions. When it comes to family photos, you know your family and who you do and don't want in those photos. I make every effort to go through family photos as quickly as possible. While they are a very important documentation of who was there and give Mom something great for the fireplace mantle, they don't tell the story that album sets out to tell, so unless requested, do not go into the album design.
Can family and friends take pictures with their cameras?
Sure. I have no problems with everyone else taking photos. Some couples choose to ask their guests to not take photos during the ceremony, meaning I'm not having to work around other people's flashes or iPads in the center aisle. During family photos, if I see a hoard of cameras behind me, I usually tell everyone to give a pose and take the next 15 seconds to take as many photos as they want, then call the family attention back to me so we can efficiently finish the posed formals and stay on schedule with the wedding day.
Business Details
This section isn't necessarily the most glamorous thing to talk about. Business insurance!! Whoo!! But it does give you a more complete picture of the person you are about to work with, and I feel these things are worth mentioning, at least here.
Do you have insurance?
Yes. Absolutely yes. Again, seems like a stupid question. "Doesn't every wedding photographer have insurance?" Sadly, this isn't the case, so the question has to be asked.
Can you hold a date for me?
All you need to hold your date is a signed agreement and $1000 retainer. If you inquire about a date and need time to think about it, I will do my best to contact you again if I get another inquiry for that same date, but unfortunately availability is based on whoever signs the agreement and pays the retainer first.
When should we book our photographer?
I would love to say "Book me first!" but sadly, it's not. First thing you should do is book your venue. Once you have your venue, and more importantly your date, locked into place, then it's time to book a your photographer. I generally book up 9-12 months ahead of any given date. If you know you want to work with me but do not have a set in stone venue or date, let me know and I will work with you to make sure I'm available on your date.
If we are running late, will you stay later than scheduled?
Yes. I understand that we're all human and things happen. All of my collections come with up to 8 hours of coverage, but if something happens and we're 30 min late, the last thing you should worry about is paying your photographer extra. Usually, I get there when you get there, I leave when you leave, and it's the venue that has a problem with you running over, not me.
What happens to our retainer if we change the date?
If you must change the date after you made a retainer, with sufficient notice, your money will simply be put toward your new date. I understand things happen and will do my best to accommodate you. Please do this as soon as you know your date is changed. If I am unavailable, unfortunately the retainer is non-refundable, but I will be happy to refer other photographers who can help you.
What if you get sick?
Not once in all my years shooting have I ever missed an event due to illness. Please continue to "What if you die".
What if you die?
If I die, then I will probably not be at your wedding. Probably. I am a member of many organizations and networks in which my wife would would be able to find a suitable replacement photographer for you.
What is your payment schedule? How do you accept payment?
Upon booking and signing the agreement, a $1000 retainer is due to hold your date. The balance is due 30 days before your wedding date. I accept checks and all major credit cards.
Do you offer any discounts for a weekday event?
The only discounts I give are offered at the wedding shows I attend. Join me on Facebook if you want updates about upcoming shows. But, it never hurts to ask.
My budget is $XX. What can you do for me?
Full collections start at $3499 and offer a significant discount off a la carte prices. However, if you have a smaller event (like an elopement or wedding with less than 25 guests), then you might be better off with the Intimate Collection ($1700). You can also always choose coverage a la carte.
We want to work with you! Now what?
Great! The first step is to come in for the consultation. I limit the amount of weddings I do every year, so each couple I work with can have my full attention, so I need to make sure we're a good fit. Next, sign the photography agreement and pay $1000 retainer. If you know you want to work with me, but haven't decided what collection works best for you and your budget, don't worry. Holding your date is the most important part and you can decide on what collection works best for you later.

WHEW! So many questions. If you've found this useful, be sure to subscribe to my mailing list or join me on facebook for more useful tips and info. (Scroll down to where you see "Stay Updated" and "Join Me on FB".) If you need more help, be sure to check out my handy guide on choosing your photographer. Ready to book your consultation? Send me a message and I'd be happy to meet with you right away.